NML - galleries revived 2022
Urgent post-Covid relicensing of 1000 photographs across 5 galleries, for National Museums Liverpool
TITANIC - relaunched 2022
Zooid manages the entireer licensaing of 1357 photo, video and audio assets for Titanic Belfast
IBWA - Latin America & the Caribbean
Zooid continues its work for Harvard University with a major new volume in the IBWA story.
Experience UK
The UK's Department of International Trade reports on Zooid.
ME museums open
Six new museums have their entire AV archive content supplied by Zooid
Middle East museums 2018
Zooid to provide full archive content for a range of new ME museums through 2017, opening in 2018
National Museum of Scotland - new galleries
animations, illustrations, photos and footage - research, licensing and video editing - for the the GBP 80 million redevelopment.
Epic Ireland opens
Zooid delivers "the impossible" - record-breakming volumes and deadlines.
Your source for picture research, footage and illustrations
Do you need someone to source pictures, footage or illustrations?
Would you rather leave the hassle of
copyright clearance, licensing and payments to someone else?
Do you insist on the best quality and speed of service?
If that sounds like you, then welcome to Zooid. Our unique on-demand media department will not only find you the right pictures, footage and illustrations for your project, but we'll also:
Sort out copyright and licensing permissions and payments — so you don't have to.
Put media online for you to easily choose and download
(or burn to disk, or present in person — it's up to you).
Work within your budget and to your schedule.
Provide unbeatable value and an imaginative, friendly service.
So, whatever content you need, talk to Zooid:
Picture Research, Footage Research, Licensing, Copyright, Permissions, 3rd Party Rights, Photo and Video production, Commissioned Illustration, Video editing, Media management, Archiving
- world leaders in picture content solutions for over 35 years

ZOOID TIMELINE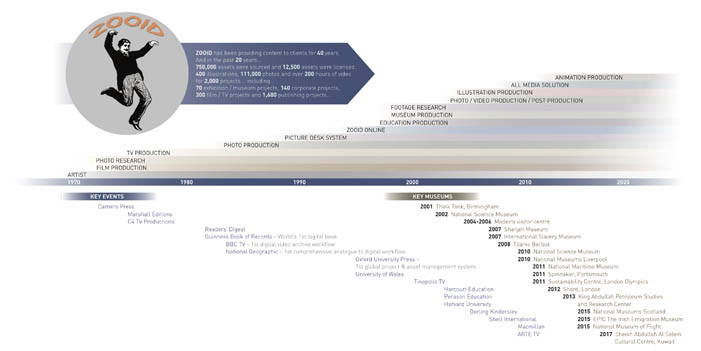 - View Zooid movie