Zooid News


ZOOID @ Educa Berlin
Dear Colleagues,

If you are involved in education, whether publishing or museums & heritage, you may be interested in Richard Philpott's recent presentation at Educa Berlin this month.


Richard was invited to speak on the value of video in education, specifically the use of archive assets in education:
"Good archive footage can bring videos to life. This interactive Learnshop will look at the wealth of content out there and deals with the practicalities of using archive material including research skills, sources, licensing and copyright"
The presentation includes a variety of case studies, providing production options to suit a range of budgets, age groups and educational requirements.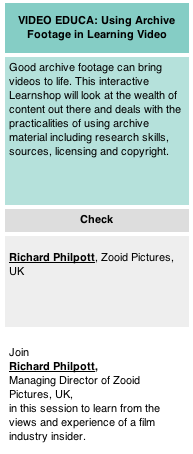 Please contact ZOOID if you are interested in knowing more about our video work (archive / production / editing) OR intellectual property adn copyright clearances.








WE WORK WITH*
publishers, broadcasters, museums and corporates
WHO NEED
photos or footage or illustration, precisely researched for online selection and delivery, copyright cleared, licences paid, prices fixed, schedules and budgets guaranteed
SO THAT
your projects contain the exact content they need, in full, delivered seamlessly into your own workflow

WHY ZOOID?
Zooid brings top researchers, unparalleled footage expertise and a unique project / asset management system to solve every aspect of a client's media content needs, in a simple online customised fixed-rate package that consistently surpasses client expectations.
more...

More links:
Testimonials
Client list
Projects





To learn how we can solve your content needs, please call Richard on
+44 20 7267 9990
If you are unable to see all the content in this message, please click here
Published 30th January 2013 by Richard Philpott